We held a very well attended Community Project morning at the pond at the start of November, and carried out a good amount of bramble and vegetation clearance on The Warren side of the pond. Thank you to all those who helped out and we managed to fill up the skip as usual.
To follow on from that the Parish Council (who of course own the pond) arranged for a tree surgeon recently to carry out the heavier and more involved tree, bramble and vegetation clearance work, especially on the Florida Road side and also more on the west bank. Below are a "before" and a couple of "after" pictures so you can see the progress that has been made, and it has really opened up the views of the pond and the wildlife that visits, including the foxes.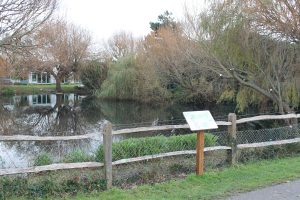 The water levels are very high which meant that the tree surgeon (who has done an excellent job) couldn't access all the weeping willow and brambles, some of which was under the water surface, even though he did some of the work from his canoe. He intends returning to complete the work in the Spring when hopefully the water will have dropped, and the whole pond project is in fact an ongoing one to be continued over a number of years. We hope to construct a Hibernaculum soon there to benefit reptiles and amphibians, including the resident Great Crested Newts, as well as carrying out some small scale tree planting plus wild flowers on the banks and margins. We are also reinstating some birds nest boxes.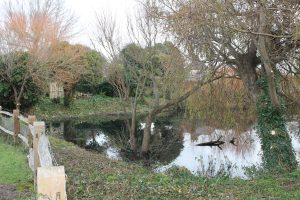 The main principle though is to maintain the pond and its surrounds as a wildlife sanctuary. As I've said many times this is one of the very few truly wild places in the village and desperately needs to be preserved as such for the benefit of the varied wildlife that call it home or frequent it.