Warren Pond in the southern part of Ferring is a better place for birds thanks to Ferring Parish Council and the Conservation Group. The pond, near the junction of Florida Road and The Warren, is owned by the Council and is managed in partnership with the
Group as a nature reserve, being one of the last remaining wild places in the village which makes it so valuable for wildlife.
The Council has funded a variety of bird nestboxes, and four of these have been installed by Conservation Group members at various locations around the pond. Two were the hardwearing woodcrete designs for tits (these are resistant to woodpeckers and squirrels), and the others were of timber construction being open fronted and more suitable for robins or wrens. One other series of 3 joined nestboxes for sparrows who like to nest in proximity to others of the same species has also been installed in another location in the village near to the Rife.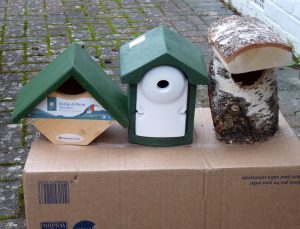 David Bettiss, Chairman of the Group, who installed the boxes at the pond together with committee members Graham Tuppen and Tricia Hall said "These boxes funded by the Parish Council are a really useful addition to the wildlife habitats of the village and we hope they'll be used on a regular basis by some of our birds. Certainly the boxes we've already put up around the village in various places are used every year and this can be seen when we check and clean them in the Winter. We're very grateful to the Council for this initiative."
He continued, "As our wildlife across the country is coming under increasing pressure due to loss of habitat, boxes like these are really helpful to assist our birds to breed successfully. We timed this installation to coincide with National Nestbox week in February, and we'd encourage as many of our local residents as possible to put up one box or more in their gardens. Please do it as soon as possible though as birds will already be prospecting for suitable sites. A site on a tree trunk, facing north or east away from prevailing winds and hot sun and about 2-3m high is ideal. Then you'll have done your bit for our local birds as well."