Members of the Group this week teamed up with volunteers organised by West Sussex County Council to improve the 3 footpaths leading from the village to the Ferring Rife – these are at the far ends of Brook Lane, Clover Lane and Ferringham Way. The paths had been overgrown by vegetation and the surfaces were extremely muddy in places despite some work having been completed by the Group early in 2016. This was the latest in a series of practical projects around the village.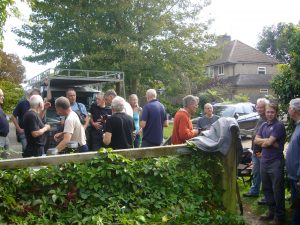 Around 20 volunteers from both organisations cut back brambles, nettles and overhanging branches among other things, using hand and power tools, and between them laid a total of 5 large builder's bags of the MOT hard-core material to give the paths a firm and more stable surface. The material was supplied by local builders merchants, Benton Weatherstone, who were very helpful in the arrangements, and it was paid for by Ferring Parish Council, with whom the Group works very closely to enhance the village.
At the end of a hard morning's work (but which included a welcome coffee break organised by the WSCC volunteer co-ordinator), all three paths' borders had been cut back and the surfaces were left in a good state due to the addition of the hard-core, which will allow residents and visitors to reach the river in comfort even after adverse weather. Thank you to all those who helped out on the day.
On the previous weekend, nearly 30 FCG members carried out the last Beach Clean of the year on Ferring beach. The whole stretch between the bottom of Sea Lane and the Bluebird Cafe and beyond was thoroughly cleaned, with potentially damaging litter being removed. Results of the clean were forwarded to the Marine Conservation Society as this was part of their Big Beachwatch weekend and will help form a picture of the problem nationally.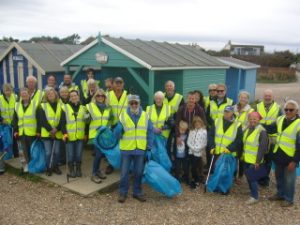 One of the most rewarding parts of the clean was finding under a breakwater a lost smartphone, wallet, credit cards and cash. After members of the team made a number of enquiries locally to trace the owner, we were able to find her on the beach when she saw the litter pickers in their high vis-jackets, and the phone and other items were safely re-united with a very grateful lady.