At the end of March, a party of Ferring Conservation Group members made their way to the Pagham Harbour Nature Reserve for their annual spring time visit and in order to savour all that the area has to offer in terms of wildlife and tranquility. The day was led as normal by member and local bird expert, Clive Hope, whose skills allowed us to spot and identify a large variety of birds and other animals.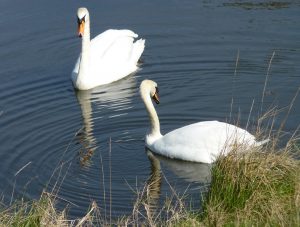 In total, a very impressive 40 different bird species were seen around the area of the North Wall, including some which had just arrived in the country after their migratory journey. One Chiffchaff for example was seen and heard in the top of a tree, both singing loudly and catching insects at different times.
Many of the usual suspects were found, including Curlew (a large flock of over 30 seen in an adjoining field) Black Tailed Godwit, Redshank and Little Grebe amongst others, and views of Buzzards and Kestrels as well. The strident call of a Cetti's Warbler was heard several times, a couple of Mute Swans treated us to a low-level fly past before landing on the nearby water, and several Grey Herons were seen moving in and out of the regular Heronry nest site. We even saw a Roe Deer moving across the fields to the north.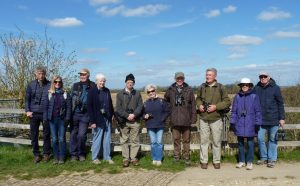 After a couple of hours taking in the sights, we repaired to the nearby café for a spot of lunch before a brief visit to Pagham beach where some of the highlights were Great Crested Grebe and a close-up Brent Goose swimming near the water's edge. On the way home, we noticed a large number of signs put up by local people protesting at plans to build housing estates in this precious area. What an absolute tragedy this would be for such a special place with the likely harm to the wildlife that it attracts. We do have something in common with Pagham though, as it seems that we in Ferring are also constantly under attack by predatory developers!