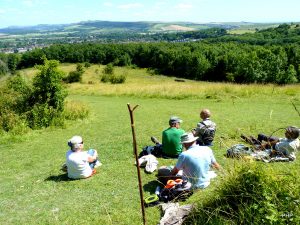 On Tuesday, 9th August, on a beautiful sunny day, members met in the car park at Steyning Grammar School for a walk up onto the Downs above Steyning. Our guide was David Buckett,   an active volunteer for the Steyning Downland Scheme. The project manages 160 acres of woodland, wetland and, especially, species-rich chalk grassland in the South Downs National Park. It is part of the Wiston Estate and its aim is to conserve wildlife and engage local people, especially children, in their own natural environment.
We walked first to Court Mill which has a large millpond behind the house fed by a chalk stream,  and an old waterwheel to the right. Towards the end of its days, in 1927, it was a provender mill producing animal feeds. We walked up Nightingale Lane and examined a woodland pond which needs restoration work as it has a leaky bottom!
Climbing up onto the Downs we came across an east-facing bank of trees and shrubs which are being actively managed for the elusive Brown Hairstreak. The males of these butterflies fly high around a 'master' Ash tree awaiting the females. Afer mating the females descend to lay their eggs on small Blackthorn bushes and these are pruned in rotation to provide ideal laying conditions. We were extremely lucky to find a single female hidden amongst ash leaves, pointed out to us by other butterfly enthusiasts. Other butterflies observed along these warm banks were Gatekeeper, Meadow Brown, a single Wall and good numbers of Brimstone.
We walked along the edge of the old rifle range observing interesting Downland plants such as Eyebright and  Vervain and the grass-supressing Yellow Rattle. We came across 3  diminutive black  cows, Dexters, part of a small herd which  munch their way around the reserve and help  keep down the growth of saplings which would grow and revert to woodland if not kept in check. The short Downland turf with its many flower species is thus preserved.
Near the top of the hill we stopped for a picnic lunch and a chance to admire the beautiful view along the scarp slope of the Downs towards Ditchling Beacon. We entered woodland for the descent where we observed a fearful-looking mountain bike course and a dell where children come for bushcraft days, building shelters and cooking over open fires.
The Downland Scheme has a comprehensive programme of fun and informative events, runs bird and botanical surveys and carries out a wide variety of habitat management with its conservation volunteers. We had a fascinating day and we thank our guide, David Buckett, for making our walk so interesting.