With a fine day on our side members of Ferring Conservation Group met at Warnham
Nature Reserve to take advantage of the chance to explore this gem of a wildlife haven tucked away near the town of Horsham. This 92 acres of land was designated as a nature reserve in 1988 and includes a 17 acre millpond, marshes, grassland, reed beds, hedges and woodland. This creates the perfect environment for 400 species of plants, over 100 species of bird, a heronry, wildfowl and the three species of Woodpecker have also been identified here along with 21 species of dragonfly.
Jacob Everitt, Ecology and Reserve Manager, welcomed us and as he led us towards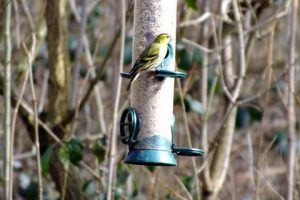 the millpond we were treated to the sight of a solitary Buzzard testing the thermals high above us. As we settled ourselves into the hide we could see Tufted Ducks, Pochard Ducks, Teal, Great Crested Grebe, Little Grebe, Mandarin Ducks, numerous Herring Gulls, Blackheaded Gulls, one Common Gull and a large Heron. Whilst admiring five Cormorants sitting in a distant tree on the far side we were delighted to catch a glimpse of a resident Kingfisher as it flashed past us.
As we left the millpond we spotted a Green Woodpecker and noticed the dipping pond,
a purpose built pond with a wooden platform on one side used by visiting children for pond dipping sessions. Making our way to the second hide we were surprised to see a male and a female Siskin feeding from the bird feeders along with Coal Tits, and a Nuthatch. A Wren and Blackbird were seen on nearby shrubs and a Moorhen and male Pheasant came foraging for dropped seed on the ground.
Jacob then suggested we make our way along the boardwalk and as we walked along we remarked on the catkins and primroses and were surprised to see a Bee fly past us; all signs that Spring is on its way. To make a very enjoyable visit even more memorable one of our keen eyed members noticed a Tree Creeper on the trunk of a tall tree. These birds are difficult to spot as their plumage is the perfect camouflage against a tree trunk. At first sight these small birds look very much like mice as they hop up tree trunks but unlike the similar Nuthatch, Tree Creepers cannot climb down again, instead they must leap off and fly to the base of the next tree to continue their endless search for beetles, earwigs and woodlice to pull out of the bark.
As we made our way back to the car park we agreed that this wonderful reserve is definitely worth a second visit.