A group of 20 members from Ferring Conservation Group, and Shoreham District Ornithological Society turned out on Tues 13th June in glorious sunshine to walk along the Rife from the Bluebird Cafe up to the Ferring Country Centre with the aim of enjoying the varied wildlife, expertly led by Tricia Hall.
Notable trees and shrubs, some in flower, included Elder, Hazel, Sea Buckthorn, Blackthorn, Hawthorn, Wild and Guelder Rose, and a sizeable patch of the shrubby herb Deadly Nightshade.
Flowers along the Rife itself included Comfrey, Cow Parsley, Willow herb, Meadowsweet and Horsetail.
In the lagoons, the show of orchids was not at its best, but good numbers of Marsh Orchid, both Incarnata and Pulchella, were seen, with some Common Spotted, but no sign of any Bee Orchids. However, there were numerous other flowers of interest, from the brilliant yellow Flag Irises to the dainty Water Plantain, and Tufted Vetch, Meadow Vetchling, Fleabane, Yellow Loosestrife, Coltsfoot, Self-Heal and Everlasting Sweet Pea. Grasses, Sedges and Rushes were in abundance.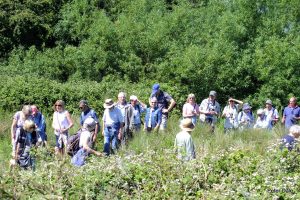 Birds included Buzzard, Whitethroat, Reed Bunting, Swallow, Reed Warbler, Chiffchaff and Blackcap, but the stars of the show were a group of 4 little Egrets and a Grey Heron all perching in the trees just north of the upper lagoon.
Wildlife in the ponds included Newts (either common or palmate), Froglets, Water Boatmen, Pond Skaters, Whirligig Beetles, tiny Flatworms and a Leech, and several Black-tailed Skimmer dragonflies put on an aerial display over the water.
The butterflies spotted were Small Tortoiseshell, Common Blue and Speckled Wood and the moths were Five-spot Burnet and Burnet Companion.
The walk was rounded off with refreshments at Ferring Country Centre.