A dozen Ferring Conservation Group members met up recently at the RSPB
Pulborough Brooks reserve for a fungi foray, led by Group committee member Tricia Hall. The wooded area of the reserve is one of the best locally to view a wide variety of fungi at this time of year. The RSPB have marked out a "Fascinating Fungi" trail there, with information notices throughout the woods highlighting the various types to be seen in each location.
The first fungi seen by the Group was right on the boundary of the car park itself where there were a number of specimens of the iconic Fly Agaric – with the well-known red and white spotted cap.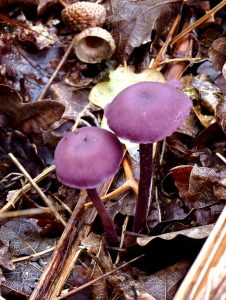 On moving down into the low lying and damp Black Wood area, a whole variety of further types were found, some of which have fascinating names including Amethyst Deceiver (a beautiful purple mushroom amongst the leaf litter), Common Earthball (quite numerous and which smell of rubber if broken open) and Turkeytail (a bracket fungus growing on tree stumps and research into this may result in its use in cancer treatment).
All of this searching was carried out to the background of birdsong from within the trees, and the visit was ended at the view point of Hail's View overlooking the brooks, where there were distant views of various geese and swans, with two Marsh Harriers hunting over the reeds and vegetation, and a Kestrel hovering overhead.
A visit to the reserve is recommended at any time, but an Autumn trip to see the fungi is an added bonus.