On a bright, chilly morning 17 members of Ferring Conservation Group met on the beach at the end of Sea Lane in Ferring. The challenge was to identify as many items as possible on the list that Tricia Hall, the Group's guide for the morning, had provided. With a keen wind behind them the Group set off in an easterly direction carefully exploring the shoreline where there was a good chance that the recent storms had dislodged marine life from the seabed.
Members were soon surprised at finding many empty shells of large spider crabs, together with pincers and legs. Many of them spied with the keen eyes of two of the youngest participants, Thomas and Eoin Kearns.
Sea lemons (or sea slugs) were found amongst clumps of seaweed; including Sea Oak, Egg Wrack and Irish moss or Carragheen. It was reassuring to see that at least a small amount of Kelp was evident. Jane Hayman from the Group commented that 'the byelaw to be introduced preventing fishing boats from entering the kelp beds off the Sussex Coast will help save this important marine habitat and hopefully allow the kelp to thrive once more'.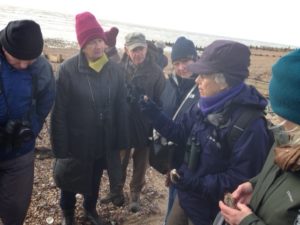 A Sea Squirt, a Starfish and also several kinds of Sponge were identified. Along with the usual egg cases of Sharks, Rays and Cuttlefish, lots of Cuttlefish bones were seen, especially baby ones.
Further along the beach the Group noticed the badly decomposed body of a Thornback Ray, a possible casualty of the recent stormy weather. On hearing the familiar 'peep-ing' call of the Oyster Catcher, attention was drawn to the water's edge where many wading birds including Turnstones and Dunlins were searching for shellfish to eat. An excellent view of these birds was possible with the use of a powerful telescope, kindly provided by member Clive Hall.
It was reassuring to find that only a small amount of plastic had been washed up but very disappointing to discover many lumps of palm oil. This edible vegetable oil comes from the fruit of oil palm trees and is used in almost 50% of packaged products found in supermarkets and also in animal feed, as well as being used as biofuel in many parts of the world (but not in the UK). It continues to be a major driver of deforestation of some of the world's most diverse forests. Ships are regularly dumping large quantities of palm oil off the coast of Britain and although it is not poisonous to dogs, if eaten it can cause sickness and in extreme cases, pancreatitis and blockages.
A welcome stop for refreshments at Sea Lane Café gave the Group time to warm up with a hot drink, and before heading back to the starting point Tricia Hall was thanked for her time and the sharing of her considerable knowledge, which made the walk all the more interesting.