On a sunny but cold and windy day around 25 members of Ferring Conservation Group enjoyed a visit to Arundel Wetlands Centre. Originally built on an old watercress farm the Centre covers 65 acres and is nestled in the scenic South Downs with views of Arundel Castle. With steep woodlands stretching along its rear boundary and with the River Arun and a historic water mill stream alongside its borders, it is truly a stunning location.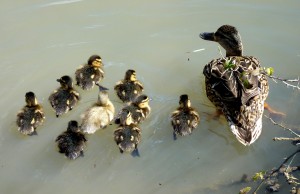 The Arundel Centre supports a rich array of British Wildlife as well as a large collection of international wildfowl. This is due to the centre benefitting from a pure water supply that is naturally filtered by the layers of chalk which are part of the South Downs landscape.
Visiting and resident British species include many small birds, such as reed and sedge warblers, 11 species of bat, cuckoos, dragonflies, grass snakes, swans, bee orchids to name a few.
A safari boat ride can be taken through the reed beds to hopefully glimpse a kingfisher or water vole.
Our Group was fortunate to be guided around the Centre by Paul Stevens, the reserve manager. Paul began by explaining that the reed beds held a Site of Special Scientific Interest  (SSSI) status but our chances of spotting a water vole for instance on that particular day were slim because of their dislike of wind.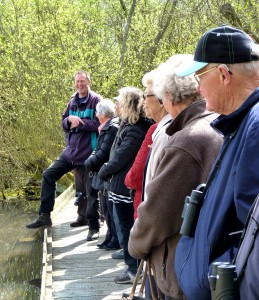 On our arrival at the Lapwing hide we were rewarded by the sight of an adult bird with 2 chicks around 5 to 6 days old foraging for food on the island. As we left the hide we spotted a Buzzard circling above and in another direction were House Martins gliding and flitting who are welcome summer visitors. Our tour then progressed along the board walk over the reed bed and here we stopped to listen to Reed, Sedge and Cettis Warblers.
The many ducks and geese waddling around keeping a very watchful eye on their young also enhanced our enjoyment of the day. So with our thanks to Paul for a very interesting and informative tour our members made their way back to the Water's Edge Café overlooking the Arun Riverlife Lake for some welcome refreshment.