We welcomed Lucy Groves, a conservation biologist with a special interest in movement ecology to our March meeting. Lucy is currently employed by the Durrell Wildlife Conservation Trust as the project officer for the White Stork Project, and is based at the Knepp Castle Estate.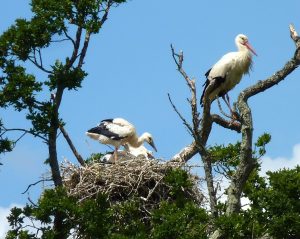 Lucy began by sharing her enthusiasm for the Stork Project which is a pioneering partnership working together to restore a population of breeding White Storks in Southern England after an absence of several centuries. A number of private landowners, namely Knepp, Wadhurst and Wintershall, located in West Sussex, East Sussex and Surrey respectively are helping to establish a breeding population of free-living White Stocks in Britain once again.
This project is being carried out in partnership with the Roy Dennis Wildlife Foundation, Cotswold Wildlife Park, Durrell Wildlife Conservation Trust and overseas at Warsaw Zoo. The named estates have constructed purpose built predator-proof pens covering about six acres each. A total of 166 rehabilitated wild-fledged White Storks from Poland, as well as a number form Northern France, have been released into these pens over the course of the last three years, in order to establish local breeding populations.
Lucy was keen to update the Group with the progress so far at Knepp and was delighted to announce that in early April 2020 five eggs were confirmed in a nest built high up in an oak tree with the eggs hatching in early May.
The project has fitted GPS trackers to a proportion of their released birds and these devices collect data to help determine home ranges, habitat choice, foraging strategies, distance moved per day etc.
White storks are particularly associated with the county of Sussex. For instance the Saxon name for the village of Storrington was originally 'Estorchestone'; meaning 'the village of storks'. A pair of white storks still features on the village emblem.
After a break for refreshments David Bettiss delivered Trisha Hall's Nature Notes session and it was encouraging to hear that several species of butterfly had been seen locally; Commas, Tortoiseshell, Brimstone, Red Admiral, Small Whites, Orange Tips and Holly Blue. The Red Kites were thriving and as many as eleven had been spotted high above Beachy Head and it is thought that they have new breeding territories. Many waders had already returned to their breeding grounds in Europe. Chiff Chaffs are the first migrant birds to be seen here when five were sighted in the vicinity of the Rife, along with Green Finches. To the delight of local birdwatchers a rare Desert Wheatear had been reported on the Goring Gap and plenty of frog spawn and tadpoles were evident in the lagoons by the Rife – David also has a newt in his garden pond. Pretty yellow Celandines were plentiful throughout the village especially in Clover Lane, and magnificent Magnolia trees in full bloom were gracing many gardens. The Blackthorn was in bloom locally and Arun DC have confirmed wildflower beds were to be seeded in the public green spaces throughout the village.
Ed Miller concluded the meeting with the devastating news that Persimmon Homes had won their appeal to HM Planning Inspectorate and had now been given the go ahead to build 475 homes on the Chatsmore Farmland at the Northern Goring Gap – although this may be challenged by Worthing BC in the High Court. It was likely however that other large scale planning applications may be revived in view of this decision. The Highdown Vineyard planning application has already surfaced again and a Public Consultation had been planned in the Village Hall on 30th March. There has been a back-garden development proposed for a property on the corner of Sea Lane Gardens and Greenways Crescent, and a property already undergoing renovation has submitted a planning application for a 4-bed house in its back garden.