In contrasting weather members of Ferring Conservation Group have been busy carrying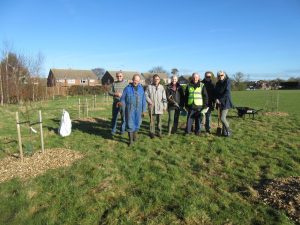 out activities associated with trees in the village. On a beautiful, bright and spring like January morning around 20 members congregated at the Group's Community Orchard situated on the Glebelands recreation ground. The task was to dig compost around the base of the fruit trees to help promote healthy growth and then cover with wood chippings to assist with the conservation of moisture in the summer months and prevent weeds from growing. The compost and wood chippings were generously donated by Arun District Council. The Community Orchard was planted in February 2016 but it will be sometime before apples, pears and plums will be ready to pick and eat.
Later that day in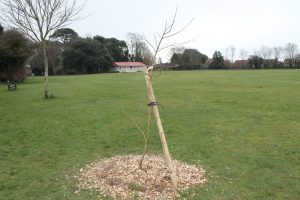 Little Twitten recreation ground a native Field Maple, recently purchased by the Group, was planted by our Chairman, David Bettiss, in memory of Joyce Cooper, one of our founder members who sadly passed away in 2015.
On a very cold February morning a group of members met up at the Little Twitten recreation ground in the centre of Ferring for an "11 tree challenge" walk around the village led by committee member, Tricia Hall.
The group first saw good examples of the locally common Holm Oak, a fantastic Monterey Pine (probably the tallest tree in Ferring and visible from Highdown), Silver Birch and Beech. They also saw the newest tree locally, the native Field Maple as described above.
Our next stop was Ferring Grange, where they saw a fine mature example of a Sweet Chestnut, then a large Cedar in Glen Gardens, before going to the Village Green and
identifying there – Horse Chestnut, English Oak, Common Lime and Ash. The final destination was the Glebelands Recreation Ground where a large Sycamore stood proud in the centre, and the walk ended at the Group's Community Orchard, which had been planted with 19 assorted fruit trees in 2016 (including some Heritage Sussex apple varieties) and was looking in good condition after the previous weekend's work party had been in action.
As they needed to thaw out, the members who had been on the walk then visited the nearby Ferring Country Centre cafe for a hot drink. The morning showed that the village is blessed with a good variety of significant trees, but some of these in private gardens have sadly been felled in recent years resulting in loss of habitat and a degradation of the street scene. The remaining important trees do need to be protected from unnecessary damage for the benefit of future generations, who can continue to enjoy them. Our woods and trees are also home to more wildlife than any other landscape. Hedgerows, copses, woods and parkland all have a unique character, biodiversity and ecosystem. Together they make up vital habitat links, connecting wildlife across the landscape and helping species to survive and thrive.