In the latest of their busy schedule of activities, Ferring Conservation Group recently organised a well attended evening Bat Walk around the village, which was hosted by Laurie Jackson from the Sussex Bat Group.
Before heading out on the walk, Laurie entertained members with a highly informative talk about bats, highlighting the fact that West Sussex is one of the best counties in the country for them, with virtually all the native bats using our area. She answered a wide variety of questions from those present, but the most popular part of her talk was her demonstration of 2 bats from the Sussex Bat Hospital in Hurstpierpoint. These were a Common Pipistrelle (our smallest UK bat alongside the Soprano Pipistrelle – weighing between 4 and 8g) and also a Serotine (one of our largest bats weighing between 25 and 30g). It was great to have such a rare close up view of these tiny creatures.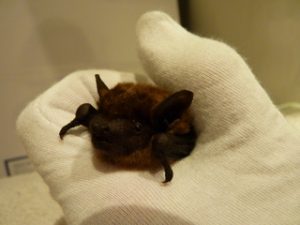 Serotine Bat (Photo by Laurie Jackson)
The group the headed out to the Ferring Rife at sunset and armed with bat detectors to help with tracking, we were able to detect a number of Common Pipistrelles probably feeding near the water, and then at least one Soprano Pipistrelle was seen nearby. The walk continued back into the village via the St Andrew's Churchyard, Little Twitten recreation ground and finishing in the Ilex Avenue. A small number of bats were detected by some members, but generally bat numbers do seem to be down this year, suggesting that they are under threat for various reasons, including habitat loss. We had hoped to see or detect a Daubenton's bat over the Rife, as this is a species that trawls prey from the water with comparatively large hairy feet, but sadly none were heard during our visit.
Daubenton's Bat (Photo by Laurie Jackson)
On the following morning, over 30 members and visitors met up on Ferring Beach for their final Beach Clean of the year. This one was part of the national Big Beachwatch Weekend in conjunction with the Marine Conservation Society, where a proportion of the rubbish collected is itemised and fed back to the Society to give a national picture of the problem of marine litter.
The members were resplendent in their new Ferring Conservation Group branded high vis vests, which together with some additional beach cleaning equipment, was purchased by the Group after a successful application to the West Sussex County Council Community Initiative Fund. The vests were supplied by local Rustington and Littlehampton company, Ricara.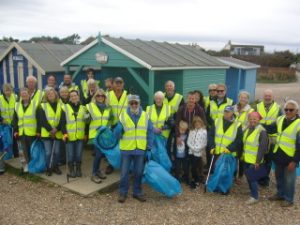 It was very gratifying to see a good number of youngsters taking part in what would have been their first ever beach clean, and showing that they and their parents do care about our local environment.