After a fallow year in 2020 due to Covid restrictions, volunteers from Ferring
Conservation Group came together again with those from The Good Gym Worthing to rake up the cut vegetation at the foot of Sea Lane Ferring at the start of the month.
The Good Gym is a charity with branches across the country where groups of runners combine regular exercise with helping local communities as happened here in Ferring. The reason for the work was to remove the thatch of grass that would otherwise swamp the wild flowers on the verge, which include the attractive Salsify amongst others, and allow them to thrive in
future years.
About 20 volunteers from both groups met up one tea time, but were greeted by a sudden downpour of rain at the start of the session. Luckily, this soon relented and the task was completed in a friendly way with people mixing well for a chat whilst carrying out the raking. Daylight began to fade, but by then the task was completed.
Ferring Conservation Group Chairman David Bettiss said, "We're very grateful to our friends from The Good Gym helping us out once again alongside the regular volunteers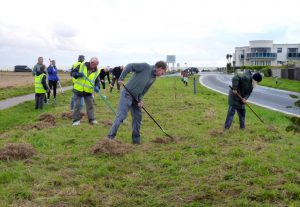 from our own group to carry out this important work. We've already seen a definite improvement in the biodiversity here since the annual raking started a few years ago, and trust that next Spring and Summer we'll all see the fruits of our work with wild flowers blooming. At this time of climate change, it's critical that we all do our bit to improve our local environment as much as we can, whilst providing a good habitat for our wildlife."