Dressed appropriately for predicted showers 20 keen members of Ferring Conservation
Group set out on a 'Tree Identification Walk' led by Tricia Hall our Group's knowledgeable wildlife expert.
Our route took us from the Bluebird Café car park in Ferring along the west bank of the River Rife and across to Kingston Village. Jane Hayman from Ferring Conservation Group said 'Tricia challenged us to try to identify 10 trees along the way and gave us further facts to add to our knowledge as we came to each tree'.
The first tree correctly identified by the walkers was a White Poplar. This untidy looking tree has dark green-grey leaves with a white downy underside. The bark is pale grey with lines of black diamond-shaped pores called lenticels. Once fertilised female catkins develop into fluffy cotton-like seeds.
Further along the bank a graceful Crack Willow was spotted, one of 300 species of willow worldwide. It is one of Britain's largest native trees and is named after the sound made when its branches and twigs fall to the ground. It is found growing alongside rivers and lakes and is often planted to stabilise banks. The willow tree bark is a source of salicylic acid. This substance is used to produce aspirin, one of the most popular pharmaceutical agents.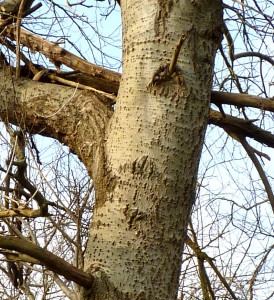 As a kestrel hovered overhead we headed west away from the river towards Kingston Village. Treading carefully along the muddy paths we successfully identified an English Elm tree and Tricia informed us that 'Dutch Elm Disease' actually originated in trees in the USA. The word 'Dutch' was applied because the disease was identified by phytopathologists in Holland. This disease is caused by a fungus invading the water conducting system of trees and has killed over 60 million British elms in two epidemics and continues to spread today.
As our Group headed back towards the west bank of the Rife we came across a majestic Perdunculate or English Oak tree. These trees grow to between 20 to 40 metres tall and have leaves that typically have little stem and grow in bunches. Its fruit, commonly known as the acorn, grow on long stalks and are a popular food for squirrels. For thousands of years Oak was the prized hardwood timber used for ship building until the mid-nineteenth century, and remains a popular wood for house building. It is commonly used today for flooring, furniture, and wine barrels.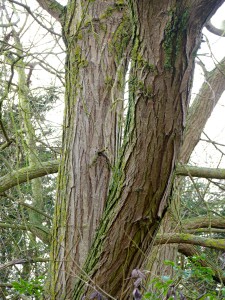 As our walk came to an end and we made our way northwards to the Country Centre for some well-deserved refreshment we reflected on our eye-opening journey into our dependence on trees and the benefits they have to all mankind and how every tree has its own story to tell.