Despite a gloomy start to the morning, members of Ferring Conservation Group met at the Bluebird Café car park to take a leisurely stroll along the banks of the Rife. Tricia
Hall, their guide for the morning, set a challenge to find ten listed butterflies along the way, as well as looking for wild flowers, trees and birds. Fortunately the sun showed its face as members split into two socially distanced groups and followed Tricia along the west bank heading north towards Ferring Country Centre. They were soon surprised by the abundance of wild flowers that adorned the bank, including Meadowsweet, Great Willow Herb, Yarrow and Yellow Loosestrife and the familiar Michaelmas Daisies were also evident.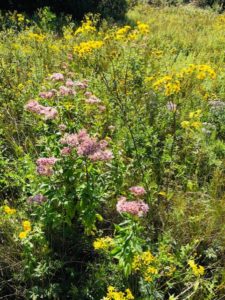 As the Group approached the Lagoons members were dismayed to witness they had all dried out. Some members commented that these are a valuable water source for many wildlife species and would therefore need to be dug out to a greater depth to prevent total evaporation. Although the lagoons failed to present any interesting sightings a male Common Darter Dragon Fly was spotted resting on a stone nearby.
Set against a backdrop of Elders, Sliver Birch, Field Maple, Willow, Mountain Ash and a few
Black Poplars, several Gelder Rose bushes were already laden with bright red berries. In the hedgerows wild blackberries were ripening off and it was noticed that Sloes were also plentiful this year. Tricia pointed out four Little Egrets and two Herons perched together on the same large tree; a regular resting place for these related birds.
Along the way members reported the following butterfly sightings; a Green Veined White, a Small White, four Speckled Wood, a Gatekeeper and many Red Admiral.
Welcome refreshments were taken at Ferring Country Centre where members thanked Tricia for a very enjoyable morning and agreed it was good to experience a Group activity once again.
Ferring Conservation Group has had to postpone all forthcoming Group meetings until further notice. Please visit:  ferringconservationgroup.co.uk  –  for the latest news.