Seventeen members in three bubbles assembled at the small parking area at the north end of Patching at 10am and made their way up the footpath onto the Hill. The weather
remained dry but grey and cool. We took our time checking the bushes and grassland for any interesting birds, insects and plants and slowly made our way up to the woodland briefly entering the Angmering Park Estate before retracing our steps via the small reservoir on the lower path and so back to the cars.
Few birds were seen on the outward leg, the highlights being Greenfinches, Kestrel, Buzzard, distant Red Kite and, rather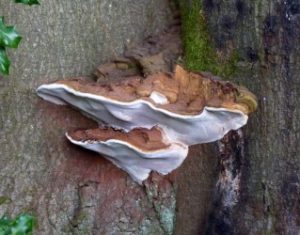 strangely, a Little Egret flying over. The hoped for migrants had largely moved on with just a Willow Warbler and Whitethroat glimpsed. Overhead 2 House Martins and 3 or 4 Swallows appeared, a Raven croaked and there were Jackdaws calling.
On the return, we saw a party of 12 to 15 Yellowhammers along the hedgerow bordering the path, together with a single Linnet and an obliging Whitethroat. Other common birds were Goldfinches, Robins, Blue Tits, Wood Pigeons, Herring Gulls, Blackbird, Magpies and Crows.
In spite of the lack of sunshine we found a number of butterflies, many roosting but this gave us a chance to examine their undersides which often show good camouflage: Small Heath, Meadow Brown, Small Copper, Common Blue, Speckled Wood and Small White.
Plants included Small Scabious, Eyebright, Red Bartsia, many beautiful Harebells and a single Round-headed Rampion after which the offshore wind farm is named.
We also admired the enormous mature trees at the entrance to the Angmering Estate, especially the Beeches, Oaks and Ashes and we found a few fungi including Southern Bracket on Beech and Oyster mushrooms on a fallen log.
Afterwards, seven of us went to the Highdown cafe for a snack. It was a very enjoyable outing with a lively and interested group. It is lovely for the Conservation Group to be out and about again.