We sold out our stock of cards in October and we have just had a new stock from the printers.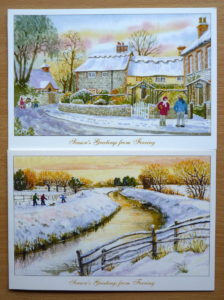 The cards are sold by FCG in aid of the Chestnut Tree House children's hospice and are the same views as before at £5 per pack of ten.
They are available from Tricia Hall and can be collected from 22 Clover Lane from Tuesday 10th November to Saturday 14th November between 3 and 4 pm. Please place your money or cheque in an envelope with your name and the amount on the front.
After Saturday 14th November Tricia can be contacted by phone on 01903 504081