In recent weeks, small groups of FCG volunteers have been carrying out practical work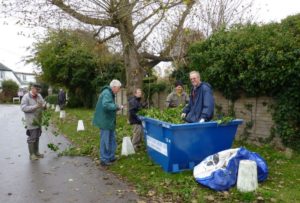 around the village in a socially distanced fashion before the second lockdown took effect.
Firstly, the annual clear up of the Warren Pond was held, in partnership with the Parish Council who of course own the pond. Bramble, some ivy and other competing vegetation was cut back which allowed for better views of the pond, as well as generally improving the look of the area. The hired in skip was quickly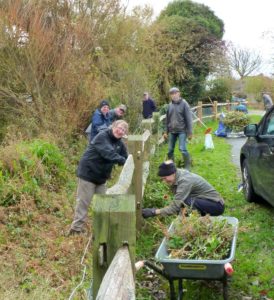 filled with cuttings and it was generally agreed that a good morning's work was completed. Recent sightings at the pond include a Little Egret and Heron, which appear to be roosting here.
The next work party concentrated on the Community Orchard at the Glebelands recreation ground, where the grass had been already cut by Arun DC. This was raked up by the volunteers to improve the chances of wild flowers flourishing there, plus there was weeding around the tree themselves and finally some planting of daffodil bulbs in the orchard surrounds. Able assistance was given on the final task by the grandchildren of two
recent members who appeared to thoroughly enjoy themselves, and it was lovely to see. We hope for a good fruiting year in 2021 with a decent supply of apples, pears, cherries and plums, as long as the person who helped themselves to the entire crop of plums this year doesn't repeat it.
Finally, an impromptu clear up of the raised shingle beds area on Patterson's Walk at the bottom of Ocean Drive was carried out by Tricia Hall and Jenny and Tito Grixti.
Sadly, this has recently become a bad area for the irresponsible dumping of takeaway food containers and cups from nearby outlets, and much polystyrene was collected, as well as shingle thrown and left around the seating area, plus there was some pruning of the maritime plants to keep things tidy.
We are grateful for the continuing help of all our volunteers, and the Parish Council have also expressed their thanks for all our efforts.
David Bettiss