On a beautiful sunny, but cold February morning 30 volunteers met at the Glebelands Recreation Ground in Ferring with spades at the ready to plant our first Community Orchard. The orchard consists of 19 trees including 13 apple trees (all Sussex heritage varieties such as Tinsley Quince, Egremont and Alfriston), plus 2 pears, 2 plums and 2 cherry trees. On hand to give expert advice was John Coote from the Brighton Permaculture Trust. John generously gave his time and expertise to ensure the correct planting of the trees by some novice volunteers.
This orchard was supported by Ferring Parish Council in the form of a grant they awarded to the project. In addition Arun District Council gave their permission as the landowner.  Thanks also go to Community Parks Officer, Martyn Burkinshaw; Malcolm Linfield, the manager of Ferring Country Centre, along with Jamie and Andrew  from the Centre who joined 26 members of Ferring Conservation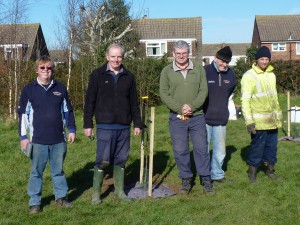 Group in the planting of the trees.
David Bettiss, Chairman of Ferring Conservation group said "The Ferring Community Orchard is a great example of the local community coming together to provide an excellent addition to the village scene. It will improve the biodiversity in the area. It will provide fruit in years to come and will be an area of interest for local people and visitors. I am very grateful to our individual members who have paid for the trees, in many cases as tributes to loved ones no longer here, and all the partners we have worked with closely to make the project a reality. I am very pleased to finally see all the trees planted and hopefully the orchard develop into the future".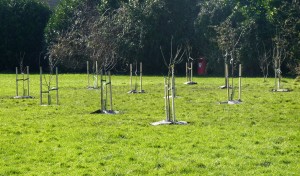 Community Orchards are a government initiative that helps communities to make the most of their local green spaces. Orchards were once widespread throughout the British Isles and until recent times every farm, country house and suburban garden had its own fruit trees. Pressure on land for new houses and roads and the importation of cheap fruit from abroad has caused the loss of many of these small orchards. The acreage of commercial orchards has declined rapidly too. Community Orchards help to revive an interest in fruit growing and provide a way of sharing knowledge and horticultural skills and stimulate us into growing food for ourselves again.
Jane Hayman