Thirty two people met in the car park at Highdown Hill on Thursday 15th July – this was the combination of members from both Ferring Conservation Group (FCG) and Shoreham and District Ornithological Society (SDOS). With such a large attendance it was decided to split into groups of 8 with Tricia Hall, Clive Hope, Graham Tuppen and
Peter and Ruth Dale as leaders.
Apart from many singing Skylarks, plus one seen carrying food to a nest very close to the path, it was good to see a number of chattering Swallows catching insects over the top of the hill. Only two raptors were spotted, a Kestrel and a Sparrowhawk, also a Swift and two Sand Martins, while a Blackcap and Common Whitethroat were in full song.
Tricia Hall handed out a printed list of downland flowers to attendees at the start of the walk and most were found and crossed off, including some additions. Interestingly a Round-headed Rampion was found which had not been seen in the vicinity before.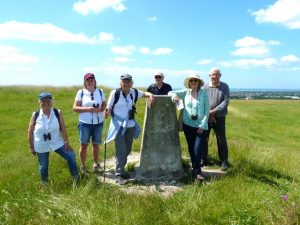 There were large patches of Yellow (Hay) Rattle, the semi-parasite which suppresses grass, and many of the favourite Downland flowers like Small Scabious and Harebells. The rarer Vervain was seen and it was reassuring to discover the Pyramidal Orchids were still growing in small numbers on the reservoir again. Four years ago there were thousands but every year since then the grass on the top of the reservoir has been cut just before they are due to flower.
Ten butterfly species were spotted between the 4 groups and a few day-flying moths, a Maybug and many little grasshoppers. Marbled Whites were plentiful but sadly no blues were seen. The highlight of the morning were the appearance of several Silver-washed Fritillaries on Hemp Agrimony beside the wood at the top of the hill.
After thanking their guides for an interesting and enjoyable morning some members met up for refreshments at the Highdown café or the mobile coffee shop in the car park