On 13th August, a sunny but windy evening, around 30 members of Ferring Conservation Group met at the Bluebird Café car park for an early evening walk to the Black Rocks at West Kingston. These rocks lay several hundred metres out from the beach and consist of lumps of conglomerate and are only exposed at an exceptionally low tide. They appear black because they are covered by Serrated Wrack (a dark brown seaweed).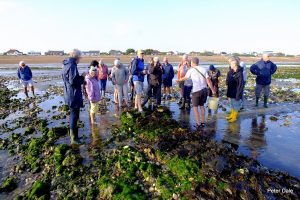 Tricia Hall, the Group's guide for the evening, made stops along the way to search for as many sea creatures and seaweeds as possible to cross off the list she had provided. Around the Rife outfall area and with the help of two eagle-eyed and very keen children, Tricia soon found some Common Limpets, an Edible Periwinkle, Common Mussels and Dog Whelks. As the Group moved to the middle shore, examples of Sea Lettuce, Gutweed, Spiral Wrack and Cladophora were found along with Irish Moss (sometimes referred to as Carragheen). Many of the three groups of seaweed, green, brown and red are edible and have been eaten in Asian countries for centuries. Seaweed is also used in cosmetics, paint, fertiliser, adhesives, dyes and explosives.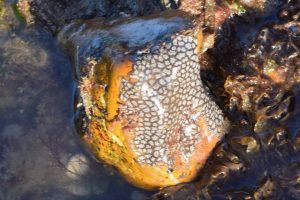 As the Group navigated their way over slippery rocks and pebbles and arrived at the Black Rocks Tricia carefully lifted a small rock from a rock pool, and to the delight of the children found a Broad-Clawed Porcelain Crab, a Squat Lobster and an Orange Jelly Sea Squirt. Graham Tuppen, another keen member of the Group found a delicate Dahlia Anemone, a Beadlet Anemone and Star Ascidian, a jelly-like mass of various colours with tiny star shapes spread over the surface of a small rock.
As the sun went down the Group slowly made their way back to Ferring noting evidence of Sand Mason Worms, Spirobis and Keel Worms in the sand and a Sea Squirt that had washed up on the beach. As around ninety per cent of the list had been ticked off members of the Group thanked Tricia and felt that the walk had been an interesting and enjoyable evening.